6 miles
65 degrees out. I think it's approaching a record, if not a new record for MA in February. 7:10, 7:09, 7:03, 7:02, 6:29, 6:07
Yesterday I had the day off and my wife and I watched our girls race on the Indoor track. Maggie is 13 yrs old and Paige is 11 yrs old.
We had a great time at the Reggie Lewis Arena yesterday, but it was a rust buster for both girls as they haven't been doing much this winter. It was their first time racing on a track and they both have a bit to learn.
Paige was first to race the mile. (She was super nervous and had to use the facilities a couple of times prior to the gun) They didn't have enough girls for each age group, so they ended up putting the 10 entrants in one race. The leaders went out hard and Paige went with them for the first lap. I had to tell her to tuck in to the first lane on her second lap, as she was running in lane 3 and working too hard. From there, she started to noticeably slow. Her fitness just wasn't where it needed to be for a fast mile race. I'm really proud of her for finishing and not dropping out. The 10th girl dropped out.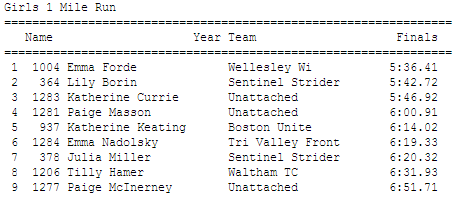 Next up was Maggie's 400M race. Maggie wasn't as nervous, but I didn't know what to expect since she has no track experience. She ended up running in fourth for the majority of the race. Coming off of the last turn and onto the straight, she kicked it home for a nice 3rd place finish. (section 3)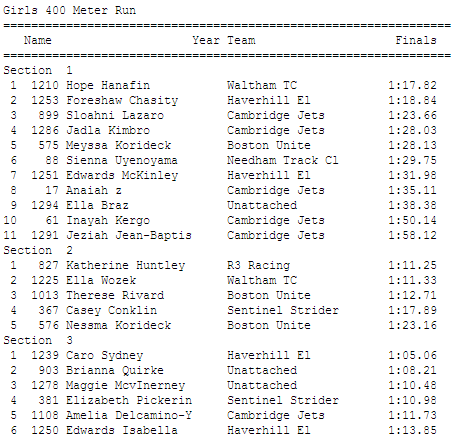 Both girls ran the 200. Paige had more rest between the mile and 200 and Maggie ran the 200 fairly quickly after her first race. That being said, Paige had a bit of redemption after her mile. This time Paige had the better race and Maggie seemed to struggle. All in all, it was a great day. (section 3 & 5)